In today's digital age, the internet has revolutionized the way we work and earn a living. This transformation is particularly beneficial for students in Pakistan who are looking to earn some extra income while pursuing their education.
Online jobs in Pakistan for students offer a flexible and convenient way to gain financial independence, enhance skills, and gain practical work experience. In this article, we will explore various online job opportunities specifically tailored for students in Pakistan, including online assignment writing jobs, work-from-home opportunities, and other income-generating options.
Online Assignment Writing Jobs in Pakistan for Students Without Investment
One of the most popular online job options for students in Pakistan is assignment writing. Many websites and platforms offer students the chance to work as freelance writers or academic researchers.
This allows them to utilize their knowledge and academic skills to earn money. What's more, many of these platforms do not require any initial investment, making it an accessible option for students. These assignments can vary from essays and research papers to thesis projects. Websites like Upwork, Freelancer, and EssayWriters.net are just a few examples of platforms where students can find such opportunities.
Online Jobs in Pakistan at Home for Students
The concept of working from home has gained immense popularity worldwide, and Pakistan is no exception. Students can explore a wide range of online job opportunities that allow them to work from the comfort of their homes.
Freelancing, content creation, graphic design, and digital marketing are some examples of remote jobs that students can explore. Popular freelance platforms such as Fiverr, Guru, and People Per Hour provide a plethora of job listings for various skill sets. This enables students to manage their time efficiently, balancing work with their academic commitments.
Online Jobs in Pakistan for Students Without Investment
Financial constraints often deter students from seeking employment opportunities. However, several Online Jobs in Pakistan for Students without requiring any initial investment. Content creation, affiliate marketing, and online tutoring are some avenues where students can begin earning without spending money upfront.
Content creators can monetize their blogs, YouTube channels, or social media profiles, while affiliate marketing allows them to earn commissions by promoting products or services. Online tutoring platforms like Tutor.com and Chegg enable students to share their expertise and earn money without investment.
APPLY FOR CANADA JOBS: CLICK HERE
Online Jobs for Students in Pakistan Without Investment
To further emphasize the importance of online job opportunities without any initial investment, it's essential to note that many students may not have the resources to invest in a business or buy equipment.
Therefore, platforms that allow students to work without spending money upfront are invaluable. These opportunities not only provide financial independence but also encourage self-reliance and entrepreneurship. Students can explore fields such as e-commerce, drop shipping, or affiliate marketing, where they can earn commissions without any financial outlay.
Best Online Jobs for Students in Pakistan
While there are numerous online job options available for students in Pakistan, it's crucial to highlight some of the best choices. Freelancing, especially in fields like graphic design, content writing, and programming, offers lucrative opportunities.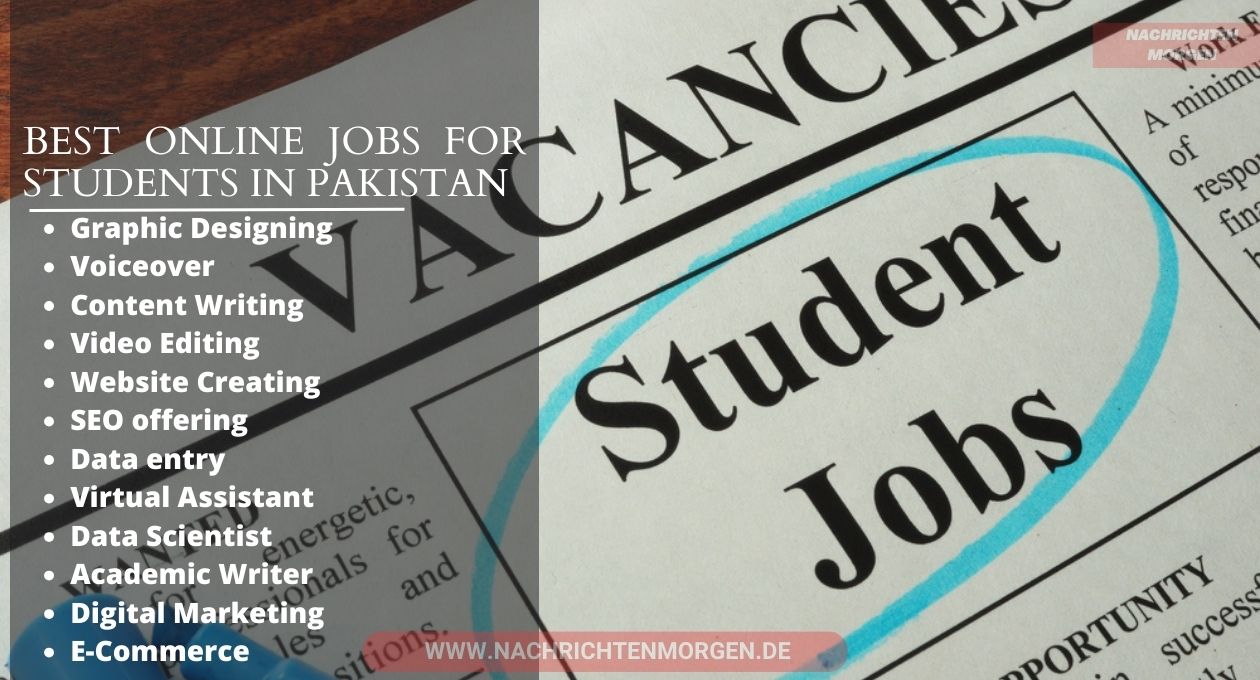 Graphic Designing
Voiceover
Content Writing
Video Editing
Website Creating
SEO offering
Data entry
Virtual Assistant
Data Scientist
Academic Writer
Digital Marketing
E-Commerce
Online tutoring is another highly rewarding option, where students can share their knowledge and help others while earning a decent income. Moreover, online marketplaces for selling handmade crafts or digital products are also gaining traction among creative students. The best online job for a student depends on their skills, interests, and availability.
Click Here to Apply 
| | | |
| --- | --- | --- |
| #SR | Online Earning and Learning Programs | Links |
| 1. | Digi Skills Training Program | Learn More |
| 2. | E-Rozgaar Program | Learn More |
Online Jobs Pakistan for Students
In Pakistan, the demand for online jobs for students has grown significantly in recent years. As the country embraces the digital revolution, more opportunities are becoming accessible to the youth.
Platforms like Rozee.pk, Mustakbil, and Pakistan Freelancers Association (PFA) cater to the specific needs of Pakistani students seeking online employment. These platforms connect students with employers looking for part-time or freelance workers, creating a win-win situation for both parties.
CLICK HERE TO JION PAK ARMY
Conclusion
Online jobs in Pakistan for students offer a world of possibilities, enabling them to earn money, gain valuable work experience, and develop essential skills while pursuing their education. Whether it's online assignment writing, remote freelancing, content creation, or affiliate marketing, students have a plethora of options to choose from.
Moreover, the availability of opportunities without any initial investment ensures that financial constraints do not hinder their pursuit of economic independence. As the digital landscape continues to evolve, students in Pakistan can look forward to an ever-expanding array of online job opportunities.
VISIT OUR SITE FOR MORE JOBS