Pak Army Jobs 2023. The PAK Army has announced PMA Long Course 153. After completing a lengthy course, you become a second lieutenant officer in the Pakistan Army. This is good and wonderful news if you are looking for employment with the Pakistan Army.
You make the appropriate choice for your present and future, which is bright. Please read the entire text properly because our staff has included all the information on PMA Long Course 153.
Online registration for the Pak Army Jobs 2023 (PMA long course 153) has opened at www.joinpakarmy.gov.pk, the Pakistan Army's official website. Candidates from all around Pakistan who are interested in applying should do so online for the Regular Commission in the Pakistan Army.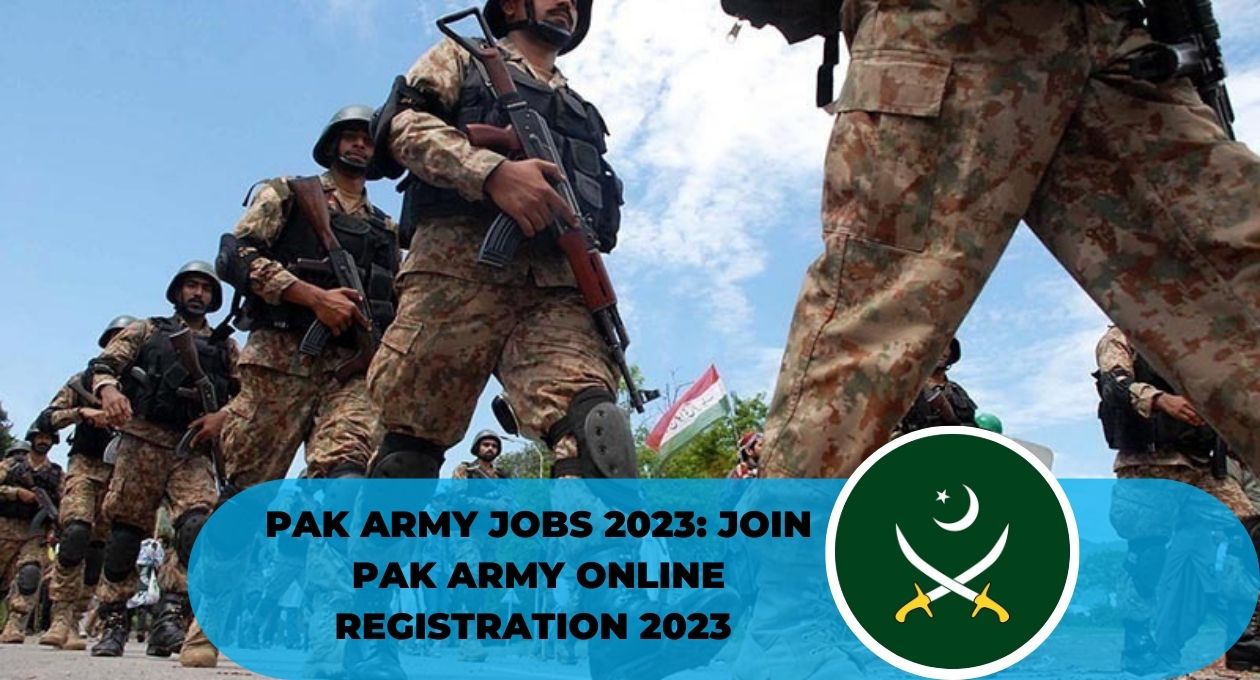 Online registration will be accessible from 09 Oct until 17 November 2023. The blowing credentials (FSC or Equivalent) are required for the application. The age restrictions listed below will be determined as of November 17, 2023.
How to apply: FIA latest jobs
Important Points of Pak Army Jobs 2023
| | |
| --- | --- |
| Job Location | All Over Pakistan |
| Organization | Pakistan Army |
| Qualification | Intermediate to Master |
| Age Limit | 18 to 22 years old |
| Total Jobs | 1000 |
| Publish Date | 09 October 2023 |
| Last Date | 17 November 2023 |
Eligibility Criteria for Pak Army Jobs 2023:
Gender:

Only Male

Marital Status:

Unmarried (married serving personnel of the Pak Armed Forces over 20 years of age are eligible)

Height:

5 feet 4 in (162.5 cm)

Nationality:

Citizens of Pakistan and domicile holders of Azad Kashmir and Gilgit Baltistan
                  APPLY FOR CANADA JOBS: CLICK HERE
How to Apply for Pak Army Jobs 2023
To apply for Pak Army Jobs 2023, candidates can follow these general steps:
Visit the official Pakistan Army website (www.joinpakarmy.gov.pk) to find the latest job advertisements and application forms.
Fill out the application form carefully, providing accurate information.
Submit the required documents, including educational certificates, domicile, and CNIC.
Prepare for the selection process, including written tests, interviews, and physical tests.
Attend the ISSB interview if applying for officer ranks.
Complete Selection Procedure for Pak Army Jobs 2023
1. Preliminary Tests  for Pak Army Jobs 2023
It consists of written, psychology ,cognitive, and personality exams.

Continue to check the official website for the exam results.

The perfect exam date will be printed on your test slip/roll no slip.
2. Physical Tests for Pak Army Jobs 2023
1.6 Km run / 8 minutes

Pull Ups / 4 repetitions in 2 minutes

Push Ups / 15 repetitions in 2 minutes

Crunches / 20 repetitions in 2 minutes

Ditch Crossing / 7'4″ × 7'4″ and 4′ deep
Jobs in Dubai for Pakistani
3. Preliminary Selection for Pak Army Jobs 2023
The Applicants will undergo initial medical tests at Army Selection and Recruitment Centers (AS&RCs).
4. Further Selection Procedure for Pak Army Jobs 2023
All required entries (Physical Test , Psychology Test & Interview Marks) will be filled out by Army Selection and Recruitment Centers (AS&RCs).

The Personal Administration Directorate will further nominate applicants for the Inter Services Selection Board (ISSB) based on merit.

Inter Services Selection Board (ISSB) selected candidates will undergo thorough medical examinations at adjacent Joint Military Hospitals (CMH).

General Headquarters will base its ultimate decision on the candidates' performances and struggle.
5. Documents Required at AS&RCs For Pak Army Jobs 2023
At the time of registration at Army Selection and Recruitment Centers (AS&RCs), candidates must deposit the following required documents:
Original Certificates, Detailed Mark Sheet of Matric, FSC or Equivalent certificate.

Attested photocopies of domicile, Family Registration Certificate & NADRA verification certificate.

Computerized National Identity Card (CNIC) or Form "B" along with Father's CNIC card.

3 Piece Colored photos duly attested by the Principal(1 front & 3 back).
6. Academic/ Military Training:
2 Years of long Training at the Pakistan Military Academy (PMA).
Recruitment and Selection Centers of Army
Rawalpindi

Lahore

Karachi

Peshawar

Quetta

Gilgit

Multan

Dera Ismail Khan

Muzaffarabad

Faisalabad

Khuzdar

Pano Aqil
APPLY  Spsc Jobs 2023
General FAQs
1. Can you help me to apply online?
Yes, If you face any problem applying online our team will help you.
2. Domicile is required for these vacancies?
Yes, Domicile is a must to apply in Pak Army Jobs 2023.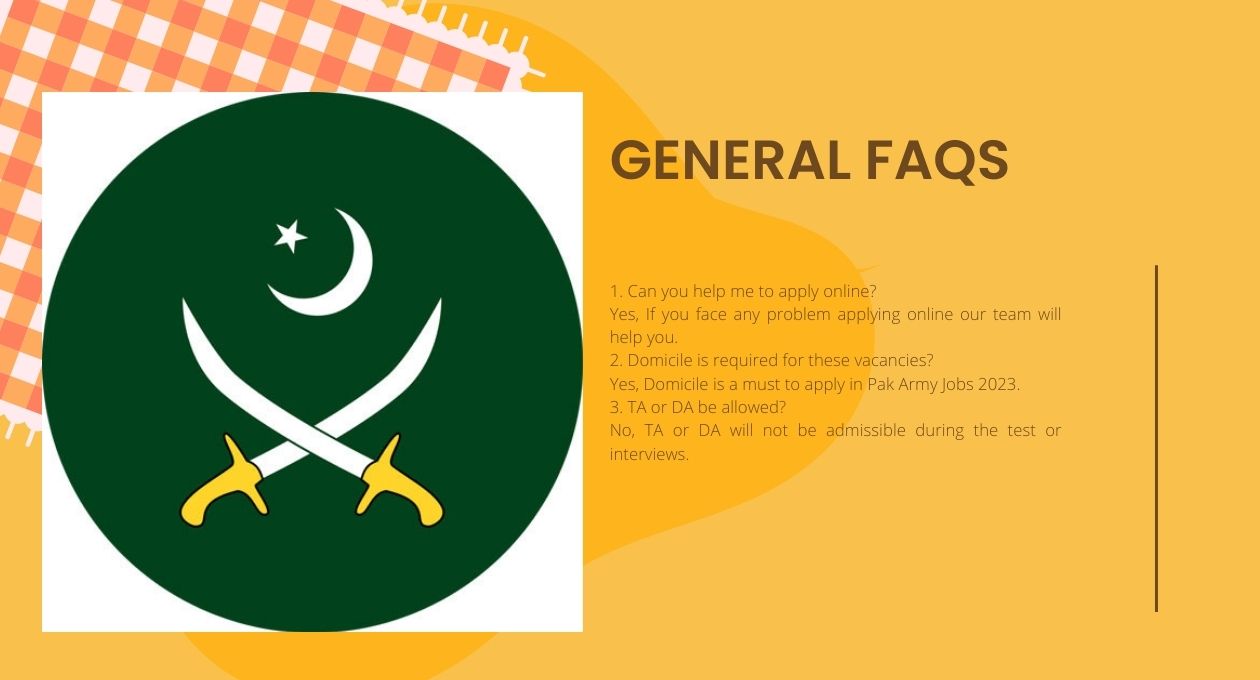 3. TA or DA be allowed?
No, TA or DA will not be admissible during the test or interviews.
4. Incomplete applications be accepted?
No, Incomplete applications will not be accepted in the Army.
5. Applications can be accepted after the last date of Publishing?
No, The application will not be accepted after the last date of applying.
Complete Information About ISSB
The Inter Services Selection Board (ISSB) tests are an important part of the selection process for candidates seeking to join the armed forces of Pakistan, which include the Pakistan Army, Pakistan Navy, and Pakistan Air Force.
ISSB tests are designed to evaluate a candidate's suitability, mental and physical capabilities, and potential for leadership roles in the military forces. Here is a brief overview of the ISSB tests and selection:
Preliminary Selection:

Candidates first go through a preliminary selection process, which includes a review of their academic qualifications, age, and physical fitness.

Written Tests:

The initial written tests cover subjects like English, general knowledge, math's and intelligence. These tests assess a student's cognitive abilities.

Physical Tests:

Candidates undergo a series of physical fitness tests, including push-ups, sit-ups, pull ups and a 1.6-kilometer run. Physical fitness is a crucial aspect of military service.

Psychological Tests:

Psychological assessments, including the ISSB Picture Story Writing and Word Association tests, are conducted to gauge a candidate's personality, decision-making ability, confidence and problem-solving skills.

Group Tasks:

Candidates participate in different group activities, which evaluate their teamwork, communication, and leadership qualities.

Interviews:

Personal interviews with the ISSB panel help assess a candidate's suitability and motivation for a career in the armed forces of Pakistan.

Medical Examination:

A comprehensive medical examination is conducted to ensure that candidates meet the physical and mental health standards required for military service.

Final Selection:

Based on the performance in all these tests, candidates are either recommended for further training or disqualified.
The ISSB tests are rigorous and highly competitive, and successful candidates are then eligible for commission into their respective service branches in the Army. The selection process aims to identify individuals who possess the qualities and potential to become effective military leaders.
Conclusion
The Pakistan Army remains one of the most prestigious and respected institutions in the country, offering diverse career opportunities for those who wish to serve their nation. The jobs available in 2023 encompass a wide range of roles, from officers and soldiers to medical professionals and specialists.
If you are inspired to serve your country and meet the eligibility criteria, consider applying for Pak Army Jobs 2023 this year. Joining the Pakistan Army is not only a career choice but a commitment to upholding the security and integrity of the nation, ensuring a safer and brighter future for all Pakistanis.